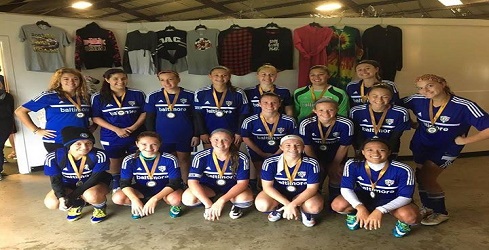 Bays U17 Pride Ladies win U18 Division at The 2016 Kirkwood Premier Frederick Cup
Bays Pride win the Kirkwood Premier Frederick Cup for the second consecutive year!

The Bays Pride U17 girls squad finished the Kirkwood Frederick Cup undefeated with a 2-0-1 record.  The girls played up in the Under 18 division and tied Henelopen Surf (DE) 2-2, while defeating the Franklin Square Raiders (NYE) 4-0 and 1-0 to clinch the championship. 
Overall a great win by the team, playing in some very wet conditions.
Great job Ladies!!!!!!!